PUTREFACT (Mexico)
Death Metal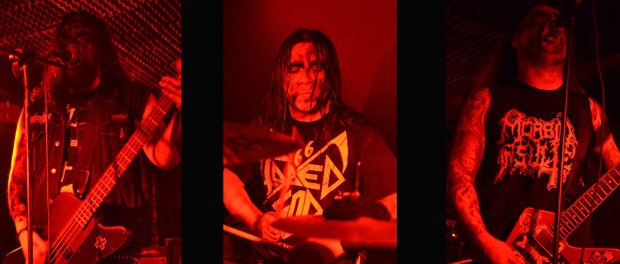 PUTREFACT (Mexico)
Biography
With their last years Demo "I Shall Die upon This Putrefaction", the Mexicans of PUTREFACT already gathered a lot of recognition within the underground. This demo spread like wildfire everywhere in the dark dungeons of the Death Metal underworld and many hailed them as one of the most promising bands in the genre. Obscure, raw and intense… that Demo has everything to become a real classic one. Hence, it wasn't a surprise to read that Hells Headbangers from USA will be releasing it on vinyl in the near future. Keep an eye on it and be fast once that is out. Believe me, you will cry in heaven if you miss it!
Pulverised Records reacted fast and signed this band for a new 7″ EP release called "Of Those Who Were Deceased" (out in October 2013). The label introduced this release the following way: "With the band's defining fanfare of reeking a foul stench of lurid, sickening riffs all over the two tracks, "Of Those Who Were Deceased" is a primal invocation of torturous Death Metal that will violate your audio senses. Bathed and soaked in filth, this is immaculate hell at its finest and best served on traditional vinyl format. " Do you need more words than that?
Now it's time for a new 7″ EP. This time in form of a 7″ Split EP with yet another putrid, evil, obscure and rotten band like PUTREVORE. And it is an honour for me that both bands agreed to cooperate with us @ UNHOLY PROPHECIES for this one. Believe me, it will be an absolute brutal, intense, putrid and obscure release. No time for compromises. Only right in your face Death Fucking Metal. Red coloured and limited to just 300 units. Art will be done by "Maggot", the one who drew the covers of the Demo and the aforementioned 7″ release by Pulverised Records.
Discography
- I Shall Die Upon This Putrefaction (Demo, 2012)
- On Those Who Were Deceased (7″ EP, 2013)
- Funebre Plague Into Darkness (Split 7″ EP, 2014)
Related links
https://www.facebook.com/PutrefactDM
https://soundcloud.com/putrefact
http://putrefactdm.bandcamp.com