BEYOND MORTAL DREAMS (Australia)
Death Metal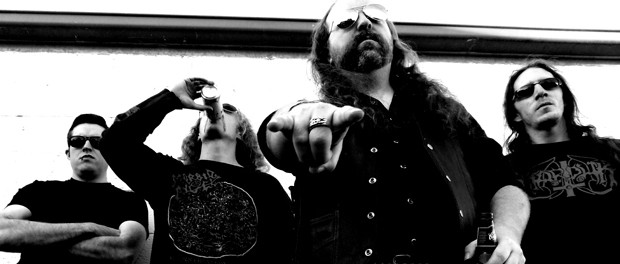 BEYOND MORTAL DREAMS (Australia)

Biography
Since its day of spawning, BEYOND MORTAL DREAMS have sought to deliver its own brand of dark, punishing death metal. Formed originally in 1995, the band has experienced many incarnations up until 2003, when the two remaining original members Doomsayer and Hellaeon, decided to resurrect the name as a recording band only. The first demo came out in 2004 when the band was still a 2 piece (Doomsayer – Guitars/Bass/Vocals, Hellaeon – Drums). The desire for live performance soon overwhelmed, and the band had welcomed Bass player Ghuul into the fold. The live assault began in the beginning as a three piece, and in 2006, a new demo was released entitled 'The Demon And The Tree Of The Dead'. Missing the twin axe attack, 2006 also saw the inclusion of guitarist Bloodspawn into the band. During 2006 – 2007, BEYOND MORTAL DREAMS had enjoyed various live rituals, sharing the stage with some death metal greats such as BEHEMOTH and NILE. 2007 also saw BMD enter the studio to begin recording their debut full length CD entitled 'From Hell' which was to be released independently in 2008. Soon after however, Hellaeon had decided to call it a day, citing his desire to pursue other interests. Doomsayer however, was not finished.
The following 3 years saw BMD in a state of limbo, due to the seemingly impossible task of finding a drummer with the ability and passion for brutal death metal. The remaining three members each pursued various projects outside the band. Becoming more involved with his own musical endeavors, Ghuul had decided to dedicate his energies there and thus came the friendly parting of the ways.
Despite the bands hiatus, Doomsayer had continued to write new material, carrying BMD into its next incarnation. Finally, in 2010, after much rehearsing, Doomsayer had found a new drummer in Maleficus. The pair had begun work on their next deathly slab, a 4 track EP intended for release mid to late 2011. With Doomsayer taking on the bass duties as well as guitar/vocals/synth keys, BEYOND MORTAL DREAMS comes full circle and begins again as a recording band only, with new material under construction, keeping true to the original vision of dark, brutal death metal!
It's 2012 and BEYOND MORTAL DREAMS latest EP "Dreaming Death" has been unleashed to crush the senses of the metal hordes at large! This EP was released by the band as a MCD and will be pressed as a 12" MLP by Lavadome Productions in May 2012. This edition will be limited to 350 copies and will have a pentagram branded on the blank side of the vinyl.
Later this year, a 7" EP containing one new song and one re-recorded song will be released through Lavadome Productions from Czech Republic and Unholy Prophecies from Germany.
Writing is currently underway for a new full length album, to be recorded during 2013.
Discography
- Promo 2004 (Demo, 2004)
- Demon And Tree Of The Dead (Demo, 2006)
- From Hell (Full Length, 2008)
- Dreaming Death (EP, 2012)
Related links

http://beyondmortaldreams.bandcamp.com
http://www.facebook.com/beyondmortaldreams
http://www.myspace.com/beyondmortaldreamsdeathmetal
http://www.reverbnation.com/beyondmortaldreams