UP-003EP | PUTREVORE / PUTREFACT – Funebre Plague Into Darkness (7″ Split EP)
Death Metal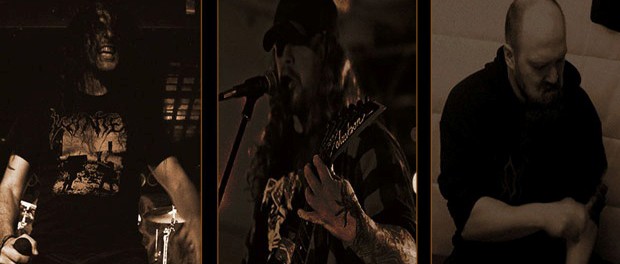 This split will bring total death & darkness above all of you!!
The Mexicans of PUTREFACT and the Sweden/Spain combination PUTREVORE (featuring Rogga Johansson & Dave Rotten) joined forces with UNHOLY PROPHECIES for the imminent release of this putrid, evil and obscure Death Metal Split. It will be pressed on red vinyl and limited to just 300 copies! Each band contributes with an exclusive song; tracklist as follows:
Side A:
- PUTREVORE – A Cold Grasp In The Night
Side B:
- PUTREFACT – Morbido Obscuro
Expect nothing less than a deathmetal smash in the face. Cover was done by Maggot, who already worked with PUTREFACT on their first two releases: "I Shall Die Upon This Putrefaction" (Demo, 2012) and "Of Those Who Were Deceased" (EP, 2013). Release date is expected for December 2013 / January 2014.
DEATH METAL ETERNAL!!!